Applicants must wait until they are fully discharged from bankruptcy, to apply for a mortgage in the UK. The time applicants need to wait depends on the specific criteria set by the lenders.
It usually takes 12 months for the applicants to get fully discharged from bankruptcy. It could vary sometimes on specific circumstances. Once the applicant is fully discharged, lenders might consider their mortgage application. More lending opportunities would open up with more time passing.
Applying for a mortgage straight after the bankruptcy discharge
It is difficult to apply for a mortgage straight after the discharge from bankruptcy. That being said, it is not impossible to apply with a specialist lender. They would assess your financial profile and review the information on bankruptcy to consider the availability of mortgage options.
Applicants could speak to an Independent Mortgage Adviser as soon as they are discharged from bankruptcy as they advise on how to get ready for the mortgage application. A bankruptcy specialist mortgage adviser would provide tips on how to boost the credit score in quick time and submit a successful mortgage application.
When to start the mortgage application after bankruptcy?
The mortgage applications submitted by bankruptcy discharged applicants are assessed by strict underwriters. There would be more compliance checks in place compared to a standard application. Therefore, it is important to time the application properly.
The mortgage adviser would help with timely submission of the application along with fact find completion, documents submission, and appointment of a suitable solicitor. The whole mortgage application needs to be timed properly to meet the specific requirements of both applicant and lender.
Do the applicants need an experienced solicitor to handle their mortgage after a bankruptcy discharge?
Solicitor is a key stakeholder in any home purchase transaction. It could be even more important for applicants with recent bankrupt discharges to have an experienced solicitor. There could be additional legal work required by the lender from the solicitor on behalf of the applicant.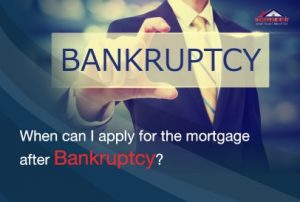 If the solicitor has little or no experience in handling such conditions set by the lender, it would be difficult to complete the purchase. It is important to communicate all related financial and non-financial circumstances with both the mortgage adviser and solicitor.
What if the bankruptcy happened some time ago?
As time passes, applicants' bankruptcy becomes less relevant in the view of mortgage providers. Applicants could get cheaper interest rates and more flexibility with product fees and other charges. The benefits would increase if the applicants could contribute a higher deposit.
For example, if the applicants have been discharged from bankruptcy five/six years ago, most lenders would consider the application as standard! It indicates that after five to six years, applicants would be able to apply for a mortgage with a 5%-10% mortgage. Still, the bankruptcy could have affected the credit score in an adverse manner. It is important to take necessary steps to boost the credit score since the discharge from bankruptcy.
Tips for applying for a mortgage after bankruptcy discharge
Applicants often run to a lender as soon as they are discharged from bankruptcy, to submit a new mortgage application for residential property purchase. The lender would decline the application if they do not pass the credit score and meet other criteria.
It is recommended that applicants could speak to an experienced mortgage adviser to discuss the options available for them. The mortgage adviser would help the applicants with tips on ways to improve their chances of a mortgage after bankruptcy discharge.
Check applicants' credit file
Submit mortgage applications only to suitable lenders
Increase the amount of deposit as much as possible
Discuss with an adverse credit specialist mortgage adviser
Work on increasing the credit score
Monitor the credit score on a regular basis
Which mortgage lenders accept bankrupts?
It is important to select a suitable lender if an applicant has ever had a bankruptcy. Even if the applicant gets through the credit score check, some lenders would still decline the application considering the time that the bankruptcy has been recorded.
It indicates that applicants who might pass the initial step of getting a decision in principle, still would not receive the formal mortgage offer. It could be a waste of time, effort, and money as sometimes applicants have to pay for the processing and survey. Therefore, it is critical to speak to a mortgage adviser to identify a suitable lender.
Overall, not all lenders would accept mortgage applications and offer funds to discharged bankrupts. It doesn't mean that applicants could not get a mortgage as a discharged bankrupt, it means applicants must apply with a suitable mortgage provider.
Buy to let mortgage after bankruptcy discharge
Applicants planning to apply for BTL mortgages would require to speak to a mortgage adviser. BTL mortgage space has been changed recently due to the pandemic and lenders have changed their criteria and policies. There are lenders who would consider a BTL application without assessing applicants; personal income. Still, if the applicant has been discharged from bankruptcy recently, they would need to find a suitable lender that fits in with all the circumstances.
Most BTL mortgage providers would require the applicants to be owner-occupiers of the current residential property. If the discharged bankrupts have previous landlord experience, there would be more lenders available to them.
Overall, bad credit specialist mortgage advisers would help discharged bankrupts with any type of mortgage. It includes residential, BTL personal, BTL limited company, and commercial mortgages.
As a mortgage is secured against your home, it could be repossessed if you do not keep up with the mortgage repayments
For more info visit site:Halifax Mortgage dmp