There are few reasons why high street banks are reluctant to lend to expats. These reasons are centred around the difficulty in following procedures that guarantee the borrower's financial stability when they have been living abroad for a potentially long time. However, the lenders are now much more flexible with providing mortgages to British Expats compared to old days.
If a mortgage provider sees a certain kind of customer as low risk profile, there is high chance of successfully securing a good mortgage. The number of inquiries came from expats regarding mortgage options has increased over the past few weeks. All these are good signs for the future of UK property and investment market.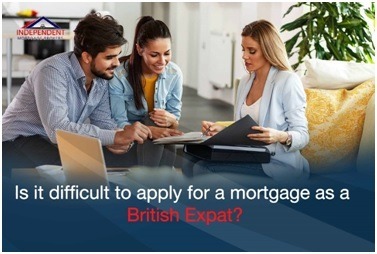 As an expat, you might think it is hard to get a mortgage from a bank based in the UK. It might be difficult if you are trying to apply in your own. The mortgage intermediaries help people to arrange their mortgages. They compare mortgage deals using online service tools to review the suitable deals available in the market.
Overseas income
When someone is earning in foreign currency, lenders need to verify the sources of income in more detail. Factors such as sustainability of employed or self-employed income. Further, the exchange rate fluctuations between the GBP and foreign currency.
The lender will might find it difficult to identify the employer given that they are based in a different country. The difficulty in getting hold of all the relevant information, coupled with the risk of fraud that comes with it, lead many mortgage lenders to cut out on the mortgages for expats.
On a positive note, when an expat is employed by a multinational company or a reputed brand, there is high chance of passing through the initial verification tests. Further, self-employed applicants can use their tax documents as valid proof of income.
Credit Rating
Mortgage applicants' credit history is important to a mortgage lender as it allows them to see how viable candidates, they are for borrowing money. If someone has lived abroad for a relatively long time, then credit history might not be traceable at all. This does not necessarily make you a bad candidate to lend to, but it creates a certain level of uncertainty within the lenders' assessment process.
Residential and BTL Mortgages
It is possible to secure a standard residential home loan as an expat, but it is little complex to arrange. Lenders will want to see evidence that close family are living in the house. Since most expats work abroad and for the majority, a buy-to-let is the more appropriate solution.
Once you complete the BTL property purchase, do not forget to inform the Tax office. If you live abroad for six months or more per year, and rent out a property, you will be classed as a "non-resident landlord" by HMRC even if you are a UK resident for tax purposes. Wherever your income is taxed, you will be required to pay tax on the rent you generate.
Some UK banks have even changed their rules and no longer offer mortgages directly to expats and non-residents, while other international lenders have made UK mortgages available.
However, not all lenders have followed this path, and even though there is a significant amount of economic, political and social uncertainty, in light of both Brexit and Covid, it is very much possible to secure a UK mortgage when living abroad.
When seeking a UK mortgage while living abroad there are a number of key factors which will affect your eligibility to apply for an expat mortgage.
In all cases, before deciding upon any given UK mortgage it is highly advisable to speak to an independent expat mortgage advisor who can understand your personal requirements before searching the whole expat mortgage market. Very often they will have access to products which consumers aren't aware of and therefore can present a wider range of options for you.
The amount anybody can borrow for a UK mortgage, whether they live in the UK or abroad, will primarily depend on two factors. The size of the deposit (discussed below as loan-to-value) and total provable income.
Most UK lenders will offer maximum mortgages between 3.5 and 6 times the total annual income of the applicant(s). However, the actual amount will also incorporate additional factors including employment history, other debts, number of applications, number of financial dependents and total committed financial outgoings.
It is important to highlight that, lending options are constantly changing and while the rates (as of 2021) are still low, your personal circumstances will have a significant impact on what rates you may be eligible for, if you meet the requirements for any given mortgage product.
If you are in any doubt or would like to speak to someone to discuss your options, consult an expat mortgage specialist who will be able to evaluate your circumstances and provide guidance as to your options. They will also be able to walk you through the application process and help you secure a UK mortgage.
As a mortgage is secured against your home or property, it could be repossessed if you do not keep up the mortgage repayments For more info visit site: https://imbonline.co.uk