The general rule is that you need to live in the UK for three years if you want to get a UK mortgage. However, there are certain exceptions available for non-British applicants to apply for new mortgage even within the first year of residency in the UK!
This gives you adequate address history, that is required to give you a reliable and traceable credit history. In fact, you might find that you find it difficult to access any credit before you have lived in the UK for few months. However, that doesn't mean that it is impossible.
You can still spend the first few months keeping your credit history clean and building your credit score. Be sure not to keep applying for credit if you get rejected, as this can damage your credit score.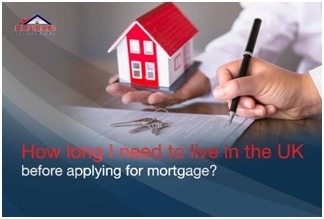 If you are from outside of the UK, be prepared to show evidence of your residency and nationality, your employment and income, and evidence of your address history. Of course, you will also be expected to have a deposit and the means to pay for any fees associated with buying a property in the UK.
What are the exceptions available for you to apply for mortgage within the first three years?
If you are a first-time buyer who can contribute 25% deposit of the property purchase price, you can apply for a residential mortgage in the UK after six to twelve months stay in the UK. It is important to note that not all lenders would provide this facility. Applicants are advised to speak to a professional mortgage adviser to find the suitable lender.
If you are an applicant who doesn't have 25% deposit as a first time-buyer, you might apply for the Help to Buy equity loan from the Government. It helps you to meet the overall 25% deposit as the government would contribute 20% of your deposit as an interest free loan for the first five years. Then, it would start charging interest. Most applicants would try to redeem the help to buy equity loan within the first five years. The main limiting factor with the Government equity loan is that you can only buy a new build property using the HTB scheme.
A combined annual income of more than 100,000 GBP
If your income is above 100,000 GBP, then you can secure a mortgage within the first few years of residency in the UK. However, it is important to pas the credit score check. It would take minimum six months for any new resident in the UK to build adequate credit record.
Overall, it doesn't necessarily mean that you need to wait for three years if you have definite or indefinite rights to reside in the UK. Still, it is important to apply for the mortgage once you have a solid credit score. You can try few things to build credit in the UK and maintaining a solid credit profile would boost your score.
How to improve my credit score and apply soon?
There are few established credit reference agencies in the UK such as Experian, Equifax, and Call Credit. High-street lenders, building societies, and other specialist providers refer to the information provided by these agencies when making their mortgage decision. Sometimes, lenders have their internal credit scoring system to determine applicants' eligibility.
As most lenders are referring to the above-mentioned, credit agencies, it is advisable to check the credit score with all three providers. Different lenders use different credit reference agencies. Therefore, if you could generate a credit report which combines the results of all three agencies, it would give you a better picture of your credit score.
Applicants could speak to an independent mortgage adviser on receiving the instruction to generate the full credit file with all required information. Further, they would guide the applicants with a detailed review and suggestions/tips to improve a low credit score.
Mortgages and Your Credit History
In the UK, your credit history plays a strong role in your eligibility for a mortgage. Unfortunately, credit history generally doesn't carry over from another country. In fact, in some countries, the same concept of credit history doesn't even exist.
When you arrive in the UK for the first time, or sometimes even if you have lived in the UK before but left for a significant amount of time, you will need to build your credit history from the start. Before doing this, your credit score and history won't show lenders that you can be trusted.
There are various ways to build your credit history in the UK, and you can get started as soon as you arrive. Some simple things that you can do include opening a UK bank account and registering to vote.
You can look for credit products that will help you to build your credit and are easier to apply for than a mortgage. These include things like credit cards and mobile phone contracts. You can also ensure you pay your bills on time, and set up direct debits, which will enable you to automatically pay your expenses.
Getting a UK Mortgage While Living and Working Overseas
You might also want to consider getting a UK mortgage while living and working outside of the UK. There are a number of reasons you might want to do this, including having family in the UK, spending a significant amount of time in the country, or planning to move to the UK soon.
It is possible to find a UK mortgage if you are living abroad, but it's a specialist area. You should make sure you're getting the right mortgage advice from brokers who can search the whole market for you and find the best lenders and mortgage products for your needs.
As a mortgage is secured against your home or property, it could be repossessed if you do not keep up the mortgage repayments.
For more info visit site: https://imbonline.co.uk